Concrete Contractors
McBrides Concrete is a fully licensed and insured concrete contractor that proudly serves Columbia TN & Maury County, Lawrenceburg TN & Lawrence County, as well as Pulaski TN & Giles County.
CONTACT US
VIEW OUR WORK
McBrides Concrete pours concrete for new homes and construction projects throughout numerous counties in Tennessee, including: Columbia, Maury, Lawrenceburg, Lawrence, Pulaski, & Giles County. We install a variety of concrete projects, such as foundations, solid poured walls, slabs, driveways, sidewalks, patios, and concrete pool decks. Whether you're looking for plain ol' concrete, decorative stained or stamped concrete, or exposed aggregate, McBrides can get it done.
In commercial or industrial settings, concrete slabs may require special modifications in order to handle the jobs that will be done on top of the concrete. Things like load, levelness, and special finishes that can affect things like hardness, color, and texture of the surface can be applied. It may not be your every day residential concrete, but McBrides is proud to say that we are a master of it.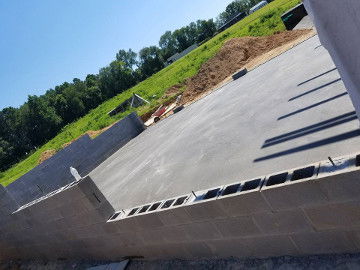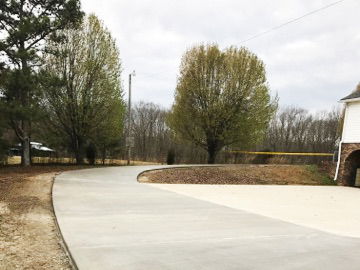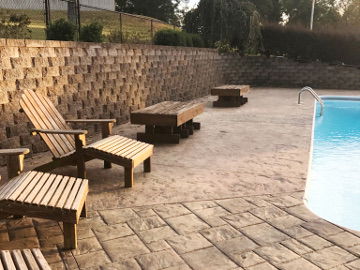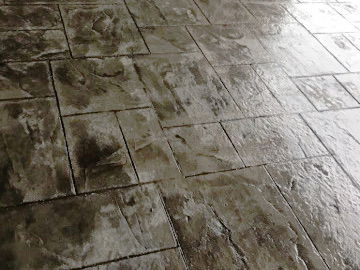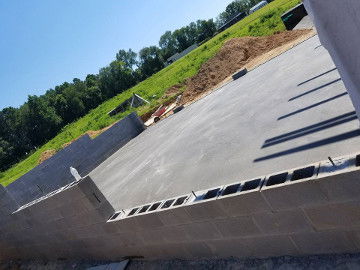 NEW HOME FOUNDATION POURS
The goal of a proper foundation is to hold a house above ground, as well as keep out moisture, insulate against the cold, and resist movement of the earth around it. Not only does it serve all of these purposes, but it should last forever. The foundation is one of the most important aspects of building any new home. It requires steel-reinforced foundation walls and footings made of poured concrete. There are plenty of aspects to take into account when pouring a new concrete foundation, from soil conditions to water tables. Let McBrides Concrete provide you with a custom tailored and reliable concrete foundation for your new home.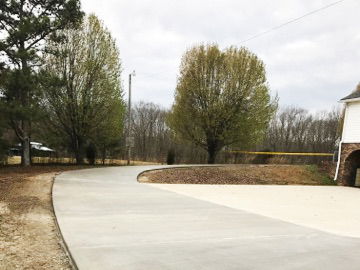 CONCRETE DRIVEWAYS
The entrance to your home is very important. The driveway should provide safety and ease, as well as the pleasing aesthetics that match the exterior of your home. You can choose from the classic gray driveway look or opt out for a more eye-catching and dazzling driveway by selecting from stamped and stained concrete options. The maintenance of a concrete driveway is low and will last you for years to come.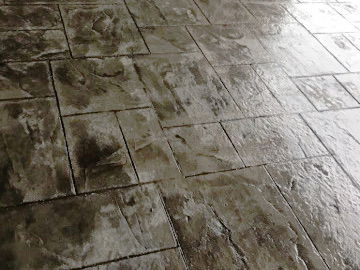 CONCRETE PATIOS
You deserve a relaxing, beautiful, and easy to maintain patio. Concrete is the most popular patio material in the country. Concrete patios provide the safety and durability that makes it easy to be a homeowner. Entertain your guests on a classic gray patio or choose your ideal aesthetic with stamped or stained concrete. No matter what you're looking for, McBrides can provide you with the high quality concrete pour you desire.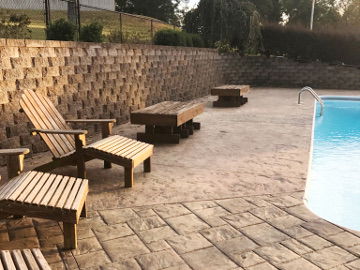 CONCRETE POOL DECKS
Concrete pool decks allow you with the widest variety of design flexibilty, from color to texture and pattern. Pool decks require a few aspects to make them suitable for the job, including: water resistance, chemical resistance, easy on the feet, splinter-proof, and slip resistant. Brighten your pool and pick the ideal design you're looking for with McBrides. We provide plenty of concrete options, including stamped and stained concrete.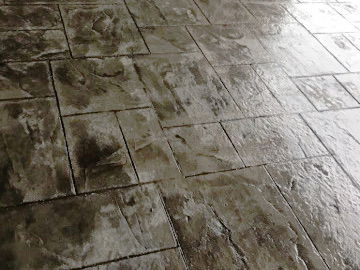 STAMPED CONCRETE
You don't have to settle for the basic gray concrete look anymore. Today, it is easier than ever to get the look you want with the durability of concrete thanks to stamped concrete solutions. Stamped concrete can resemble brick, slate, flagstone, stone, tile, wood, and various other patterns and textures. This is also an easy way to get the look you want while saving money on alternative materials that are traditionally required. Partner with McBrides to get the quality concrete look you are looking for.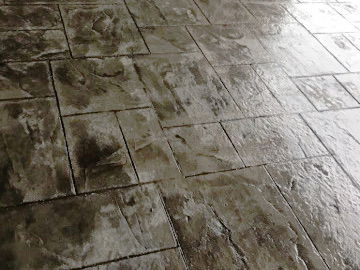 STAINED CONCRETE
Staining concrete can provide a luxurious appearance, as well as enable you to match your concrete to the exterior appearance of your home. The design of stained concrete can make any home look complete. Stains can mimic nearly any look you want, from polished marble to tanned leather to natural stone or even stained wood. You don't have to settle for gray concrete, team up with McBrides today.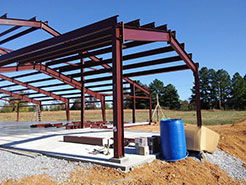 COMMERCIAL CONCRETE
Commercial Concrete definitely has greater demands than residential concrete. The structural performance and durability of commercial concrete is highly important in ensuring that any job can be completed upon it, regardless of what it is being used for. From business facilities, such as industrial buildings, warehouses, retail stores and even restaurants, commercial concrete can be found in nearly every single industrial building.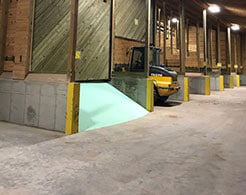 INDUSTRIAL CONCRETE
Industrial concrete slabs are most often found in places such as a residential basement, a big-box store, or a manufacturing plant. The slabs usually have special requirements based on the loads or flatness or levelness. McBrides is proud to specialize in completing any special industrial concrete requirements at a high-quality level. It may not be the most visually appealing concrete, but it definitely gets the job done.
WHY PARTNER WITH MCBRIDES?
Paul McBride has 20 years experience in the concrete business.
With lower overhead, McBride can offer quality concrete projects at a lower cost to customers.